You may wish that winter may never come, but it may have a late and dramatic entrance with a record-breaking 26-inch of snow. Since it is freezing, it can bring up a couple of issues: how to best pamper the skin whenever you get stuck indoors and how to take nurture and care for the skin since cold dehydrates it.
We bet that the readers of this blog are ready to moisturize but have you already chosen a moisturizer that is best for the chilly and blustery weather?
First, there are two forms of hydration that you can provide to your skin. These are the occlusives and humectants. Humectants can draw water from your skin's lower levels and your body's reserves like the water you drink. On the other hand, occlusives create a barrier to block the surface from losing water.
Here are some of our favorites that can protect your skin from the bitter cold and lock in moisture.
Shangpree, Bitgoa Hue Rich Cream, $85
Here is the cream that has a blend of seven fermented extracts that are also prized ingredients in Korean skincare. They are ginseng, soybean, rye, milk, rice, pumpkin, and pomegranate. It is a powerful double-agent because it has niacinamide that provides powerful brightening capabilities. It also has a creamy texture that can hydrate the skin because of the fantastic ingredients like Macadamia.
Aromatica, Calendula Juicy Cream, $37
This cream is one of our favorite because it is somewhat like a magic cream. It gets praises that we always sing from Aromatica because it is the only brand in Korea that achieved the EWG champion status because of its toxin-free ingredients. The cream is safe enough for babies. It is also a bit thick enough so you will feel occlusive similar to a sleeping pack that you can use as the last step of your regimen. This product is also light enough to prime your face whenever you hurry in the morning. The ace ingredient Calendula can soothe sensitive skin and calm redness. There is no question that this cream can do it all.
Mizon, Night Repair Melting Rich Cream, $42
Here is a creamy night cream that also feels like frosting. It can melt into the skin, and it can work while you sleep. Using this can help anyone achieve the three common skin goals: 1. brighten and revitalize the skin because of the brightening agent adenosine, 2. hydrate the skin and 3. fight the signs of aging. The best part about this is that you may have fun and joy in applying it.
Skin Inc., My Daily Dose Hydrate 'Em Custom Blended Serum Starter Kit, $90
The customizable serums of Skin Inc. can make anyone feel like they are a cosmetic chemist. Every plasma has fresh capsules of the hero ingredients which are the coenzyme Q10, hyaluronic acid, and ceramides. It also has the capsule storage system that can make it safe for the components to comingle. Mix them inside a pretty serum bottle so you can create a targeted skin treatment. The kit is all about hydration. The hydrolyzed hyaluronic acid can hold up to 1000 times its weight in water. The molecules called ceramides can help lock in the moisture and strengthen the skin's barrier. It also has the coenzyme Q10 serum that is an antioxidant that protects against the free radicals. Finally, the plasma also has Vitamins E and C that fights aging.
Here are our Sheet Mask Picks for the bundled-up Sundays
Mizon, Enjoy Vital-Up Time Nourishing Mask, $3.50
It is an affordable sheet mask that can pack a lot of nourishing ingredients which is why it can be worthy of your buck. Avocado can help in evening the texture of rough skin and provide moisture and abundant nutrients. However, the avocado is not the only skin perk in this mask. It also has hyaluronic acid, sc-glucan, allantoin and trehalose that is a cocktail of brightening, hydrating and soothing ingredients.
Ariul, Avocado 7 Days Mask, $3.00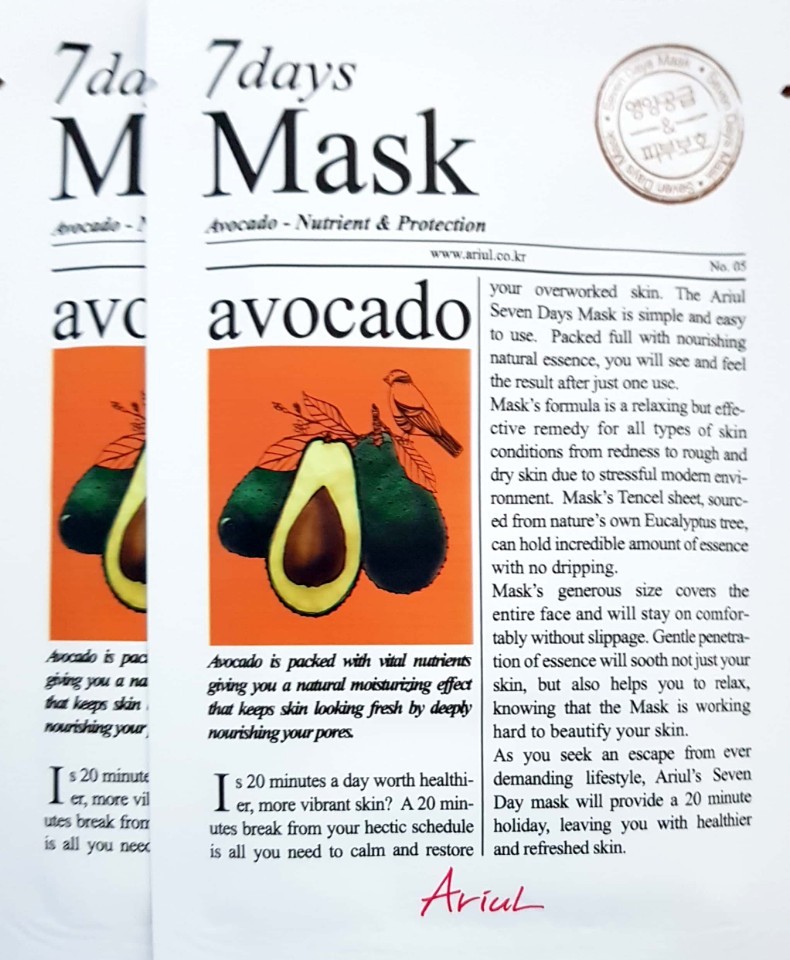 It is a mask that is a part of the newly curated 7 Days Mask Set that sells every eight seconds in Korea. These masks focus on just one key ingredient which is why they are easy to shop.
Holika Holika, Juicy Mask Sheet Honey, $4.00
Anyone should appreciate honey because it is a must for skincare. This sticky bee-byproduct is famous for its healing agent for centuries. It is an anti-microbial natural antioxidant that is great for people with acne-prone skin. This can soothe, moisturize and nourish skin that is red, dry or irritated and reveal moisturized, calmer and plumped skin.
Ariul, Bamboo Water 7 Days Mask, $3.00
The Bamboo Water Mask of Ariul can impart hydration. It is a no-brainer for the chilly air outside and the heater-air inside your home.
Cremorlab, Perfection Hydrating Mask, $15
Here is a unique luxe mask that has the natural cellulose fiber that can fit the face like a glove. It can clarify and hydrate the skin with the amino acids, vitamins, essential minerals and algae extracts. This mask is one of those where you will become amazed when you check out the mirror after you take it off. Prepare for a glow!