You may have heard the word essence and found it as a confusing skincare method. It is possible that you heard a celebrity swear by using it or you may have heard it for the first time.
I'm sure you're wondering why Korean women swear with the use of an essence. How could it be different from a serum? Are you aware of what kind of results you need to expect? Here is a rundown of everything you need to know about essences.
What is an essence?
The essence is an important part in Korean women's typical skincare routines. It's primary goal is to hydrate your skin. Our skin is similar to a sponge that becomes more absorbent when it is wet. The use of an essence can drench the skin with moisture and allow for a beter absorption of the other products. It is like a sponge that becomes more absorbent when it is wet. Similar to a sponge, whenever it is wet and squeezed, the surface will not crack like a dry a brittle sponge. These essences can help your sponge-like skin become full of the necessary moisture that will allow you to have a healthier skin that can absorb any product better.
Ann essence's primary goal is to hydrate the skin. It is also full of other ingredients that are beneficial to the skin because it helps the skin lift, brighten and become firm.
What do essences feel like?
Essences are usually substances that have a lot of fliud and feel a lot like water. They may range from a thin consistency to a texture that is more emulsion-like and viscous. These may also have a formulated powder essence that can liguify upon application. They may be more textured but they are less viscous than the serums.
How can you use an essence?
Doing this is rather easy. After toning and cleansing, put a small amount to your palm and pat it on your skin. You may also use a cotton pad in patting it on your skin.
Which could be the best essence for me?
Since every essence has a formulation that has benefits other than the primary function of hydration, check out this guide so you can choose the best essence for you.
Cremorlab Mineral Treatment Essence
After testing this, I knew it will become a cult-favorite product. These products use their exclusive thermal water that is full of rare minerals like the vanadium. The water is great for wellness and the brand creates pharmaceutical-grade products using their water. All the goodness may come with an intensively hydrating essence that the brand included a rich list of active ingredients. It doesn't just allow the skin become immediately hydrated . After using it for a few weeks, your skin may become more translucent. The uneven skin tone will become improved and the skin will feel really supple.
It's key ingredients are thermal water (vitamin rich–nourishing), rose water (soothes), Niacinamide (brightens), adenosine (refines skin texture and brightens), glycerin (hydrating),
This is best for oily, combination and normal skin types.
It moisturizes and brightens the skin as well as helps with the pores.
This has a watery texture and a faint fresh and earthy scent.
The Mineral Treatment Essence of Cremorlab's innovation factor is it has become a P&L cult classic that was a favorite from the beginning. It also has a unique combination of the fermented ingredients and the Cremorlab's proprietary thermal water that provides this product with a hard-to-find and unique formulation.
Mizon Mela Defense White Capsule Essence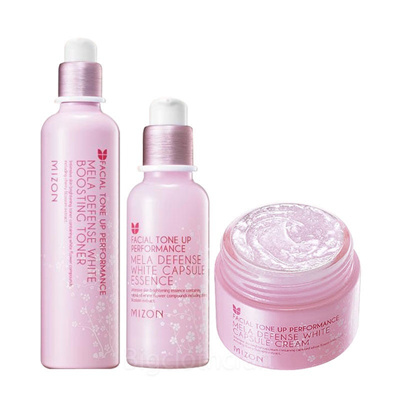 Here is an essence that may be great for anyone who is struggling with hyperpigmentation like uneven skin tone, sun spots and acne scars. It works quickly in improving the stubborn dark spots. It also has a ton of antioxidants that can help may your skin nourished and fight hyperpigmentation. This product was initially tested four years ago at it had visible results that is why it is now a customer favorite.
It's key ingredients are jojoba oil that hydrates, vitamin C that fights dark spots and breakouts and niacinamide that brightens skin.
This product is ideal for people with combination, oily and normal skin. It can primarily combat hyperpigmentation. People with sensitive skin should avoid using this.
It's benefits include the hydrating of the skin, minimization of breakouts and the brightening of the face. However, it may not be hydrating enough for those who have dry or normal-to-dry skin.
The slippery liquid has capsules that can keep the ingredients fresh until you apply them.
It has a noticeable clean floral scent that does not overpower.
The Innovation Factor
Most of the products that ccombat hyperpigmentation can become very drying and make the skin flake. The formulation has a medley of wonderful oils that has a ligtweight and liquid texture. It can be interesting to add this so that the skin barrier will stay strong and not flake. Those who breakout because of oils should not use this essence because it is a very oily product. However, you will not feel any heaviness or greasiness.
Mizon Water Volume EX First Essence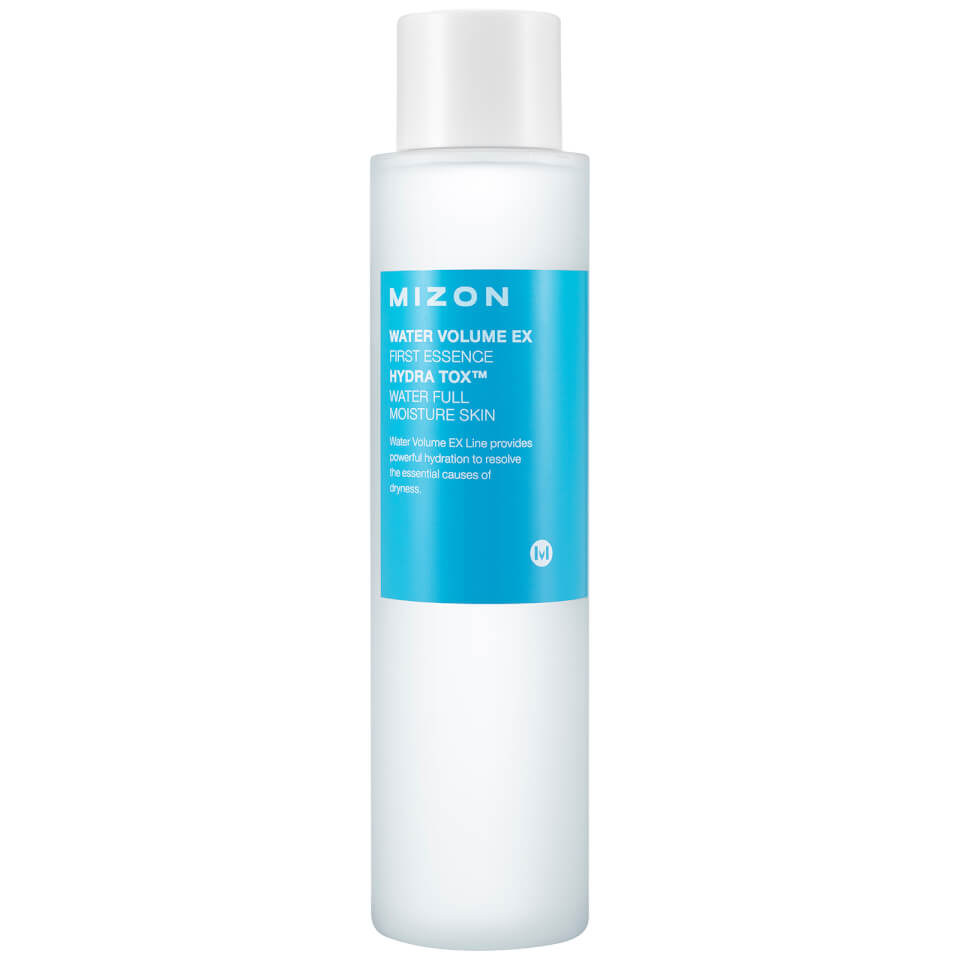 The R&D lab of Mzon never fails to impress because it has a lot of solutions that are wellloved by the discerning beauty customers of Korea. The essence has a patented hydration technology that they spent a lot of time working on. It hydrates and helps the skin hydrate itself from within. It is kind of like working out. You provide your body with the needed exercise and then your body becomes healthoer. The positive cycle can help the skin improve itself. You will see noticeable results on your first try and using it continuously will allow your skin to hydrate itself.
Key ingredients: Lactic acid (brightens, resurfaces and smoothes the skin), Mizon's patented Hydra ToX technology (activates the natural moisturizing capabilities of the skin to improve the moisture barrier), adenosine (makes the skin smooth), sunflower oil (hydrates the skin and does not clog pores) and niacinamide (brightens the skin).
Who It's For: This is for every skin type.
Benefits: It brightens, hydrates and refines the texture of the skin.
Texture: This has a watery and clear texture.
Scent: It also has a subtle scent that is lightly fruity and fresh.
The Innovation Factor: The R&D lab of Mizon is among the top in the skin-savvy Seoul. It has the patented Hydra ToX technology that strengthens the skin's barrier, activates the natural mositurizing capabilities of the skin and locks the hydration in so the skin can absorb all of the products you apply afterwards.
May Coop Raw Sauce
This product launched with Sephora as its partner so you may have seen this in the "Favorites" wall of Sephora's shelves. It is not surprising that this product is here. It's maple tree sap is maller than the water molecules and has the same size as the body's fluids. The waterless sauce may disappear right into the skin. Check out your skin drink this up to see nature's power at its best.
Key Ingredients: It's key ingredients are wheat extracts (shield skin from free radical damage), maple tree sap (hydrating and nourishing), panthenol (conditioning), antioxidants like chestnut, rice bran, grape and black currant.
Who It's For: It is for people with dry, normal, combination and oily skin. It is not ideal for use by people with sensitive skin.
Benefits: This product softens, brightens, nourishes, protects and hydrates the skin.
Texture: It has a watery and silky texture that doesn't drip right off the skin. It can be slick but never sticky
Scent: This has subtle hints of sweet maple.
The Innovation Factor: May Coop utilizes maple tree sap as its base instead of water like a lot of beauty products. Maple tree sap, the first ingredient listed is also the hero ingredient which is both the active ingredient and the base of the product. This natural and beautiful product has a whole lot of action your skin. It is a nutrient-packed essence that is also a cult-favorite because of its ability to help people achieve the coveted lit-from-within glow.
Primera Miracle Seed Essence
You may love fermented ingredients because it has minerals, vitamins and amino acids. However, there may be some people who are sensitive to products that have fermented ingredients. This product came up in a lot of reviews from people who usually react poorly to fermented ingredients because it is one of the few that did not make them break out. Primera is great because it was able to create a gentle formulation.
Key Ingredients: It's key ingredients are glycerin (hydrating), lotus seed extract (antioxidant, brightens, moisturizing) and Saccharomyces Ferment (boosts cell turnover rate, firming, brightening).
Who It's For: It is best for use for all skin types, including sensitive skin types.
Benefits: It's benefits include texture refining, anti-aging, hydrating and brightening.
Texture: This product has a clear and watery texture
Scent: It does not have a scent and it is almost entirely undetectable.
The Innovation Factor: The natural formulation of Primera contains 93.1% lotus seed extract that is rich in linoleic and amino acids that hydrate and plump the skin.
Cremorlab Aqua Essence Water Fluid
Since I have a sensitive skin, whenever I test a lot of products, it usually goes through the wringer. The essence is what I personally reach for whenever my skin is in need of extra love when I treat it. I don't worry that it will irritate my skin even when it is sensitized. It can also plump up and hydrate my skin. It can make makeup look great afterwards because of the well-primed canvas. It has been a wonderful staple in my cabinet for the past years.
Key Ingredients: It's key ingredients include soybean oil (antioxidant, hydrating, helps with breakouts), witch hazel (toning and pore refining) and licorice (brightening/anti-inflammatory).
Who It's For: This product is great for all skin types, including those with sensitive skin.
Benefits: It soothes, hydrate, antioxides and minimizes the pores of the skin
Texture: This essence will not slip off the hand at all because of its gel-like consistency that absorbs while you massage it into the skin.
Scent: It is a product with a light and fresh scent.
The Innovation Factor: This product can defy anyone's expectations of essences. It has a slightly goopy formulation that can nurture the driest skin type back to a state of hydrated-ness. It can be richly hydrating but avoids to make the skin appear greasy because it has the anti-inflammatory licorice and the toning witch hazel. It also has the Cremorlab's signature T.E.N. thermal water that is rich in minerals.
Shangpree Bitgoa Hue Essence Toner
This product can provide love-at-first-pat. Korea's top estheticians were able to create it thoughtfully from the iconic and award-winning spa, Shangpree. This can basically hydrate and make the skin really radiant. It does not irritate and it leaves the skin with a bouncy feel whenever you are totally hydrated and well rested. You will have your best skin moment with this essence.
Key Ingredients: It's key ingredients are glycerin (hydrating), niacinamide (brightening), ginseng root, pumpkin, rice andpomegranate extracts (brightening and antioxidant).
Benefits: It has brightening and hydrating antioxidants
Who It's For: It is for all skin types, including those with sensitive skin. People with dry and normal skin types will surely find this as a holy-grail essence.
Texture: This is an opaque and milky liquid that feels like silk on the skin
Scent: It has a floral and herbal scent.
The Innovation Factor: This impressive formula has eight fermented ingredients (ginseng root, lotus, soybean, pomegranate, rice, pumpkin, milk, and rye). They are united in this impressive formula, that combines the essence and toner into one luxe step. You surely won't feel like you're skimping with this one.
Tosowoong Green Tea Eco Brightening Essence
I may not brak out often or have a lot of issues with redness but I still experience red angry skin and inflammation whenever I test the wrong products. This is the essence that I use whenever my skin becomes irritated. It can calm it down and minimize the redness.
Key Ingredients: It's key ingredients are raspberry extracts (antioxidants), green tea (brightening, balancing, antioxidant), glactomyces ferment filtrate (antioxidant, hydrating, brightening), witch hazel (brightening, balancing, pore size reducing), adenosine (texture perfecting), Vitamin E (brightening, hydrating, antioxidant), strawberry, rice, and blackberry.
Who It's For: It is for all skin types, including those with sensitive skin.
Benefits: It has antioxidants that can brighten, pore refine, texture refine and hydrate the skin
Texture: It has a gel-like, clear and syrup-like texture.
Scent: It's scent is like light green tea.
The Innovation Factor: The antioxidants may not always get the credit they are due. These powerful molecules are some of our best defenses against the environmental stressors and free radicals that damage our skin. It has green tea that is incredibly rich in antioxidants so this essence a great choice for anyone in need of strong defenses. It has a combination of adenosine, peptides, galactomyces ferment filtrate, and vitamin E that features potent hydrating, anti-aging, and brightening ingredients as well.
Dr. Dream Age Radiance Powder Essence
Even if I tried my best in wearing enough SPF everyday, I still struggle with sunspots and uneven skin tone. This essence gave me a translucent and totally even-toned face that I really love.
Key Ingredients: It's key ingredients are yuzu & grapefruit (brightening, antioxidant), rose stem cell (hydrating, anti-aging), rose water (soothing, nourishing) and eucalyptus (purifying, skin refining).
Who It's For: This product is for all skin types, including those with sensitive skin.
Benefits: It can soothe, repair and brighten the skin.
Texture: It is made of powder that liquefies upon contact with skin.
Scent: This product has a scent of a light rose.
The Innovation Factor: One of the things that I love about this one-of-a-kind powder essence is its versatility.You may use it alone and cocktail it with cushion compacts, moisturizers, and serums to give the skin a boost in the brightening antioxidant power. You make this ordinary product extraordinary if you add this booster in. It is a DIY beauty that is at a whole new level of innovation.
The Lotus Essence with Lotus Leaf
Make sure to turn to this essence whenever your skin is in need of a boost of strength. This brand uses the white lotus leaf extract from the pristine Jeju Island that is also a super-powerful antioxidant. When you combine it with ceramides, your skin may feel strengthened because it has a nourishing meal. It can be a mega-vitamin-pack for anyone's skin.
Key Ingredients: It's key ingredients are sunflower seed oil (hydrating and nourishing), lotus leaf extract (anti-aging, antioxidant, pH balancing), green tea extract (brightening, antioxidant), and ceramide (strengthens skin, hydrates).
Who It's For: This product is great for all skin types, including sensitive skin. People who are sensitive or allergic to the lotus leaf extract should not use this.
Benefits: It's benefits include hydrating, antioxidant, and brightening.
Texture: It has a milky liquid that is smooth to the touch
Scent: This product has a slightly floral, natural, and herbal scent that lingers, but is pleasant.
The Innovation Factor: The Lotus got its name to honor its hero ingredient. It is the unique flower that is the source and inspiration of the products. They harvested it from the pond at the ancient Beophwa Temple on Jeju Island. This place earned its fame as a beauty mecca because of the lush ingredients growing there. It has an incredible formula that contains 89% lotus leaf extract and the anti-inflammatory antioxidant contains flavinoids. This innovative formula has a waterless nature that allows for a highly concentrated and undiluted product.
Lady & Skin La Vie En Rose Youth Reviving Essence
It may be difficult to use this product because it ahs a strong scent. However, I love its luxurious ingredient list that includes caviar extract and truffle oil. It surel y does not skimp on ingredients.
Key Ingredients: It's key ingredients are adenosine (texture refining, brightening), rosewater (hydrating, pore tightening, texture refining, soothing), caviar extract (nourishing), truffle oil (antioxidant), and collagen (firming, hydrating)
Who It's For: It is for people with oily, combination and normal-to-oily skin. This product is not ideal for those with sensitive or dry skin.
Benefits: This product softens, nourishes and provides antioxidant.
Texture: It has a gel-like essence that absorbs into the skin and leaves skin with a tiny bit of a chalky feel afterwards. However, about five minutes after, the skin is left smooth
Scent: The product has a strong rose scent that lingers.
The Innovation Factor: This luxurious essence's ingredient list may appear like a menu at a very fancy restaurant. It contains 100% Bulgarian Rosewater instead of water, which is a mild astringent that heals, fights inflammation and tones the pores. It also has gold, truffles, fermented grapes and caviar that provides nutrients to the skin.