If you enjoy the beautiful vegetables of summer, you will love Korea because their tables are full of vegetable side dishes. You may grow zucchini (hobak, 호박), tomatoes, cucumbers (oi, 오이), garlic chives (buchu, 부추), perilla leaves (kkaennip, 깻잎), chili peppers and eggplants (gaji, 가지) on your own. If you also go to the farmer's market often, you will surely not have a shortage of summer vegetables in your home. I have here one of my quick, go-to summer side dish that is made of eggplant.
You need to have the slender Asian or Korean eggplants for this recipe because they have a sweet flesh and tender skin.
Add a pop of green color to the dish by using a couple of green chili peppers for the recipe. You may also use the buchu or garlic chives because they really work well with the dish. Sometimes, you may add a cup of mushrooms like the shiitake, king or oyster mushrooms. In case you use a lot of vegetables for the recipe make sure to add the seasoning.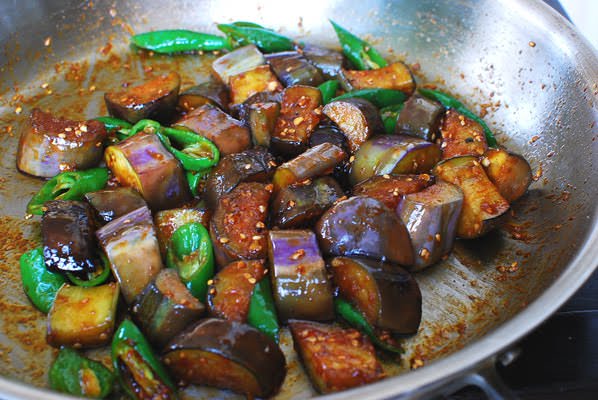 There are other summer vegetable side dishes that you may use like the hobakjeon, yeolmu kimch, hobak bokkeum, kkaenip jjim and oi bokkeum.
Stir-fried Eggplant Side Dish or Gaji Bokkeum
It is a quick-to-prepare, summer side dish that is made with eggplants!
Ingredients
1/2 medium onion
1 small thumb size ginger, cut into short matchsticks
1 medium Korean/Asian eggplant, gaji (or 2 small), around 8 ounces
2 garlic cloves, thinly sliced
cooking oil

2 small green chili peppers
Seasoning
1/2 teaspoon sesame seeds
1 tablespoon rice wine (or mirin)
1 tablespoon soy sauce
1/2 tablespoon sesame oil
Pinch salt and pepper
1 tablespoon corn syrup (Korean oligodang, oligodang) or 1 teaspoon sugar
Instructions
Cut the eggplants into halves lengthwise. Afterward, cut them diagonally into 1/4-inch thick slices. Slice the chili peppers diagonally and the onions thinly. Mix the sugar or corn syrup, rice wine and soy sauce in a small ball
Heat the pan with a tablespoon of cooking oil over medium heat. Add the ginger, garlic, and onion. Stir fry it until it becomes fragrant. Add the eggplants and then stir fry the dish for a couple of minutes until they become soft.
Add the peppers after stirring the sauce mix.
Continue stir-frying until the eggplants are coated with enough seasoning and the pepper becomes a bit wilted. Improve the taste by seasoning with salt and pepper. Turn off the heat and drizzle with the sesame oil. Mix it well once more and sprinkle it with sesame seeds before serving.