The best way to celebrate may be drinking with friends. Koreans also have a rich drinking culture that goes along with their school ethic and near suicidal work. Hardworking Koreans work six times a week, 12 hours a day. The same thing applies to students who stay in school for 12 hours. That may be the reason why Korea is one of the countries that have the highest IQ in the world. These people even have tutorial during weekends. They may continuously be under pressure to do best in their work and studies. Koreans also need to obey people who are older than them. Whenever they have an opportunity to unwind, they should go all out.
Philippines' Beer and Korea's Soju

If we have San Miguel beer, the Koreans have the Soju. They drink it with kimchi, chips, crackers and small fruit salads.
Drink Any Day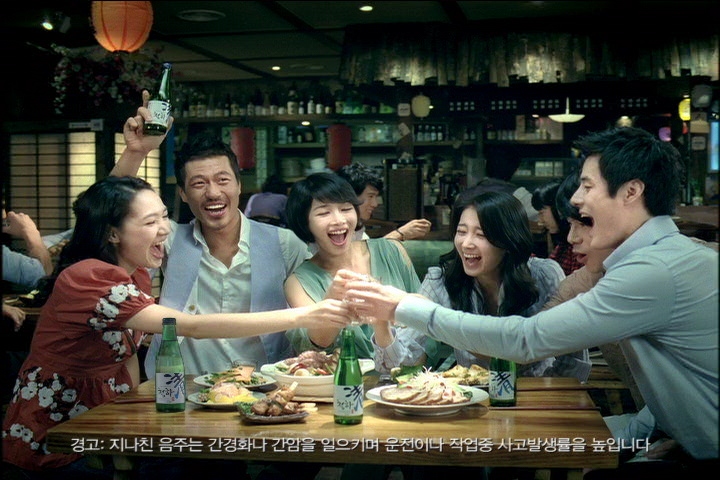 Drinking in Korea happens every day of the week. It may not be necessarily most robust during weekends. They also don't have strict drinking laws.
Colleagues Drinking Together

It can be customary for colleagues to drink together after work. Refusal could become rude or even disrespectful especially if your boss or senior suggested it. Not drinking may cost you your job.
Filipinos usually go to one place like a friend's house and drink there until morning. In Korea, they drink from one bar to another. They will surely drink until they pass out.
Sassy Girl

Like the show Sassy Girl, Heroine was drunk when they first met. That is a norm in Korea. They don't seem to care if they are drunk in public. It may happen in the elevator, comfort room, street or in a subway. Getting drunk does not only occur to Korean men but also women. It may be familiar to see people vomit inside the trains or on the platform of train stations. Whenever that happens, these people tend to sleep anywhere. They do this because no one seems to care.
Safety First

Here in the Philippines, our friends will do everything to make sure that we arrive home safe and sound. People who pass out on the street will have people gathering around him.
That may be one of the cultural differences between Koreans and Pinoys' drinking habits, Not everyone in the Philippines and Korea may be drunkards. These are just the cultural differences when it comes to drinking. Always make sure to drink moderately!
Kombe! Cheers! Kampai!!!